ADA accessible accommodations with ambiance
Kimpton Overland Hotel has rooms that accommodate guests with disabilities. The details below will show you our accessible room types and the features they have.

If you have questions call our Front Desk at (470) 466-3300.
Check Availability Book Direct on our website.
Our Best Rates + Perks. Always.
Standard Double
417 Square Feet
2 European Twin beds
Workspace with multimedia ports
Coffee maker
Triple-pane windows to minimize sound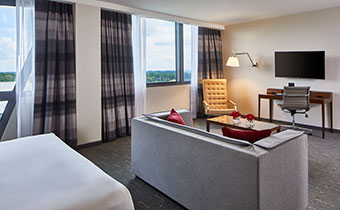 Deluxe King
412 Square Feet
1 King bed
Workspace with multimedia ports
Coffee maker
Triple-pane windows to minimize sound